What better way to end the weekend then to go for a paddle under a summer sky as it fades to black? We are going night kayaking at Reen Pier, Union Hall. This trip has been voted by Trip Advisor as one of the worlds top ten trips!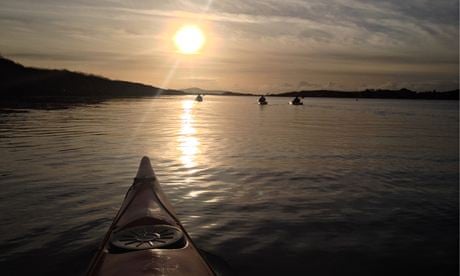 Quoting from the company :
"One of our most magical and popular kayaking experiences, a moonlight / starlight paddle starts one hour before darkness. This gives you a little time to get used to the kayak. We use a mix of singles and doubles. This is a very atmospheric trip and we do not travel a great distance, so it is suitable for everyone.
There is always something to make you gasp on the moonlight / starlight kayak trip, whether it be the silhouette of the seabirds on the bank, the red sunset, the whole panoply of stars overhead, the moonlight reflected on the water, or, at certain times of year, the astonishing bio-luminescence. This is a light emitted by marine life, which, from the paddler's point of view, causes the water to light up around your paddle in 1,000 tiny lights"
Trip duration: 2.5 hours. All equipment provided. Suitable for beginners.
Car pooling: Please post to event to let us know if you want a lift or can provide one.
What to bring: Warm clothes, camera (waterproof), hat, snacks and drinks.
Sunday 5th Feb 8pm-10.30pm (2.5 hours)
Contact: suzanne@moptog.com or 085-107 6113